Carlo Michele Schirinzi
Below is a brief biography of Carlo Michele Schirinzi, one of the guests at the Manchester conference.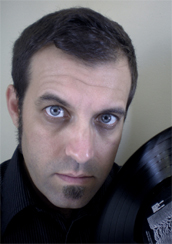 Carlo Michele Schirinzi, nato ad Acquarica del Capo il 27/04/1974, è regista ed artista. I suoi film hanno partecipato a festival internazionali dedicati alla sperimentazione del linguaggio digitale.
Nel 2003 Il nido ha ricevuto una menzione speciale al 21° Torino Film Festival e nel 2004 All'erta! ha vinto il 1° premio alla 40ª Mostra Internazionale del Nuovo Cinema di Pesaro che nel 2005 gli ha dedicato una retrospettiva. Nel 2007 il 3° Taranto Film Festival ha ospitato tutta la sua produzione nella sezione Altri Sguardi. Nel 2009 Notturno Stenopeico ha vinto la sezione 'Italiana.corti' al 27° Torino Film Festival e Sonderbehandlung ha ricevuto il 1° premio al 10° Festival del Cinema Europeo mentre Mammaliturchi!, nel 2010, ha ricevuto una menzione speciale al 28° Torino Film Festival. Dal 2005 al 2009 ha realizzato la collana di documentari Intramoenia Extrart, progetto d'arte contemporanea nei castelli di Puglia. Attualmente è impegnato nella lavorazione del lungometraggio I resti di Bisanzio.
I suoi lavori fotografici, ribattezzati iconoclastie su(al) negativo, consistono in asportazioni manuali dalla pellicola 35mm.
Further information can be found here: http://www.cinemaitaliano.info/pers/025424/carlo-michele-schirinzi.html
One Response to "Carlo Michele Schirinzi"
Che dire, chi l'ha dura la vince! Bravo Carlo, meriti il meglio e te lo auguro di cuore!